The New Wave of Litigation that All Businesses Need to Understand - Especially Non-Union Companies
The New Wave of Litigation that All Businesses Need to Understand - Especially Non-Union Companies
Thursday, November 16, 2023 (1:30 PM - 3:00 PM) (CST)
Description
If you are a non-union business, you need to attend this webinar to understand how your business falls under the National Labor Relations Act ("NLRA"). This is extremely important, when the National Labor Relation Board continues to file charges against non-union businesses for violating the NLRA. Over this past year, the NLRB has issued new guidelines and will be setting up "test cases" to determine how far it can stretch its enforcement powers under the NLRA. If your business is unaware or unprepared for these attacks, it will be devastating to your business. Join Dykema's Sean Darke for this webinar as he provides guidance on how employers can comply with the new NLRB and the "test cases" to make sure the business is not violating the NLRA and avoid charges by the NLRB!
Continuing Education Offered: 1.50 HRCI, 1.50 SHRM, 1.50 CLE per attendee request prior to event, and 1.50 Hr & Supervision Compliance Certificate Credits.HR Certification Institute's® (www.HRCI.org) official seal confirms that the Illinois Chamber meets the criteria for pre-approved recertification credit(s) for any of HRCI's eight credentials, including SPHR® and PHR®.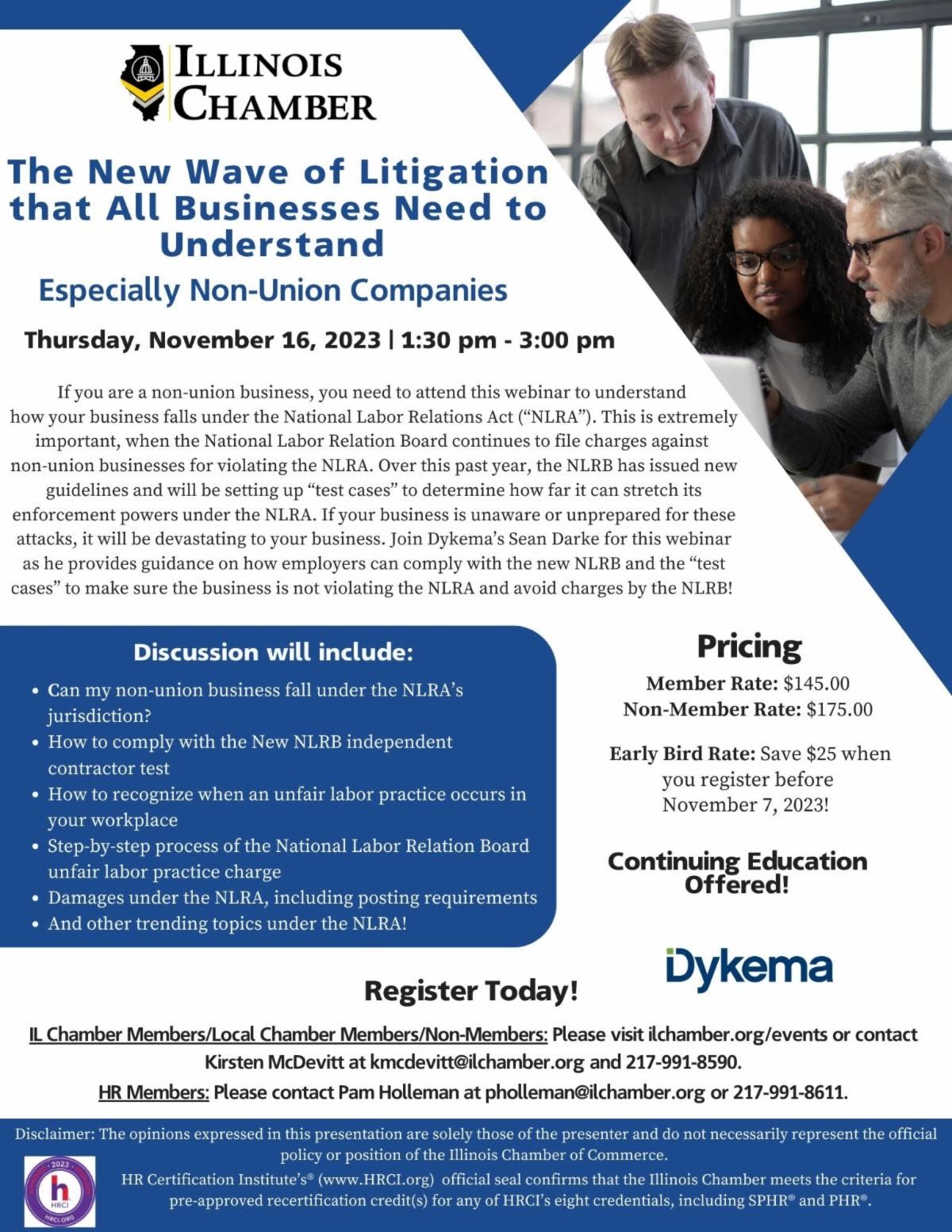 Pricing
EAC Member or Illinois Chamber Member Rate: $145.00
Non-Member Rate: $175.00
Early Bird Rate: Save $25 when registering before November 7, 2023!
Thursday, November 16, 2023 (1:30 PM - 3:00 PM) (CST)
Categories
Small Business
Continuing Education
EAC Events
Community
Webinar