How the New Era of Wage and Hour Laws are Burdening Illinois Businesses
How the New Era of Wage and Hour Laws are Burdening Illinois Businesses
Tuesday, June 13, 2023 (1:30 PM - 3:00 PM) (CDT)
Description
Wage and hour laws are complex and always changing, whether it's through court's interpretation of statutory language or new regulations. The most recent changes to wage and hour regulations are causing Illinois employers to rethink their future in Illinois. It's imperative businesses analyze all wage and hour regulations to determine their future because kicking the can down the road is no longer an option. This webinar will provide a roadmap for Illinois employers to comply with both Illinois and federal wage and hour laws, including the recent/proposed regulations relating to overtime exemptions. Illinois employers are still being dragged into court because of wage and hour violations. Join Sean Darke of Dykema, as he provides guidance on how employers can comply with Illinois and federal wage and hour laws to avoid being the next defendant in a lawsuit!
Continuing Education Offered: 1.50 HRCI, 1.50 SHRM, 1.50 CLE per attendee request prior to event, 1.50 CPE, 1.50 HR Compliance Certificate Credits, and 1.50 Management/Supervision Compliance Certificate Credits. HR Certification Institute's® (www.HRCI.org) official seal confirms that the Illinois Chamber meets the criteria for pre-approved recertification credit(s) for any of HRCI's eight credentials, including SPHR® and PHR®.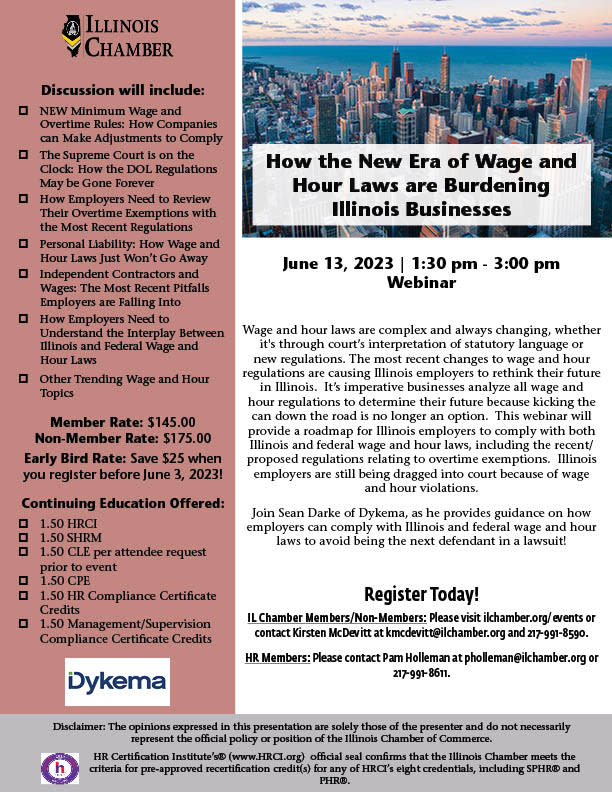 Pricing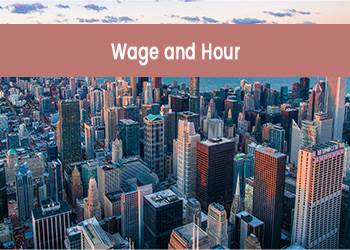 Member Rates: $145.00
Non-Member Rates: $175.00
Early Bird Rate: Save $25 when you register before June 3, 2023!
Tuesday, June 13, 2023 (1:30 PM - 3:00 PM) (CDT)
Categories
Small Business
Continuing Education
EAC Events
Community
Webinar