ESO announces complete 2023-24 season/Tix on Sale
ESO announces complete 2023-24 season/Tix on Sale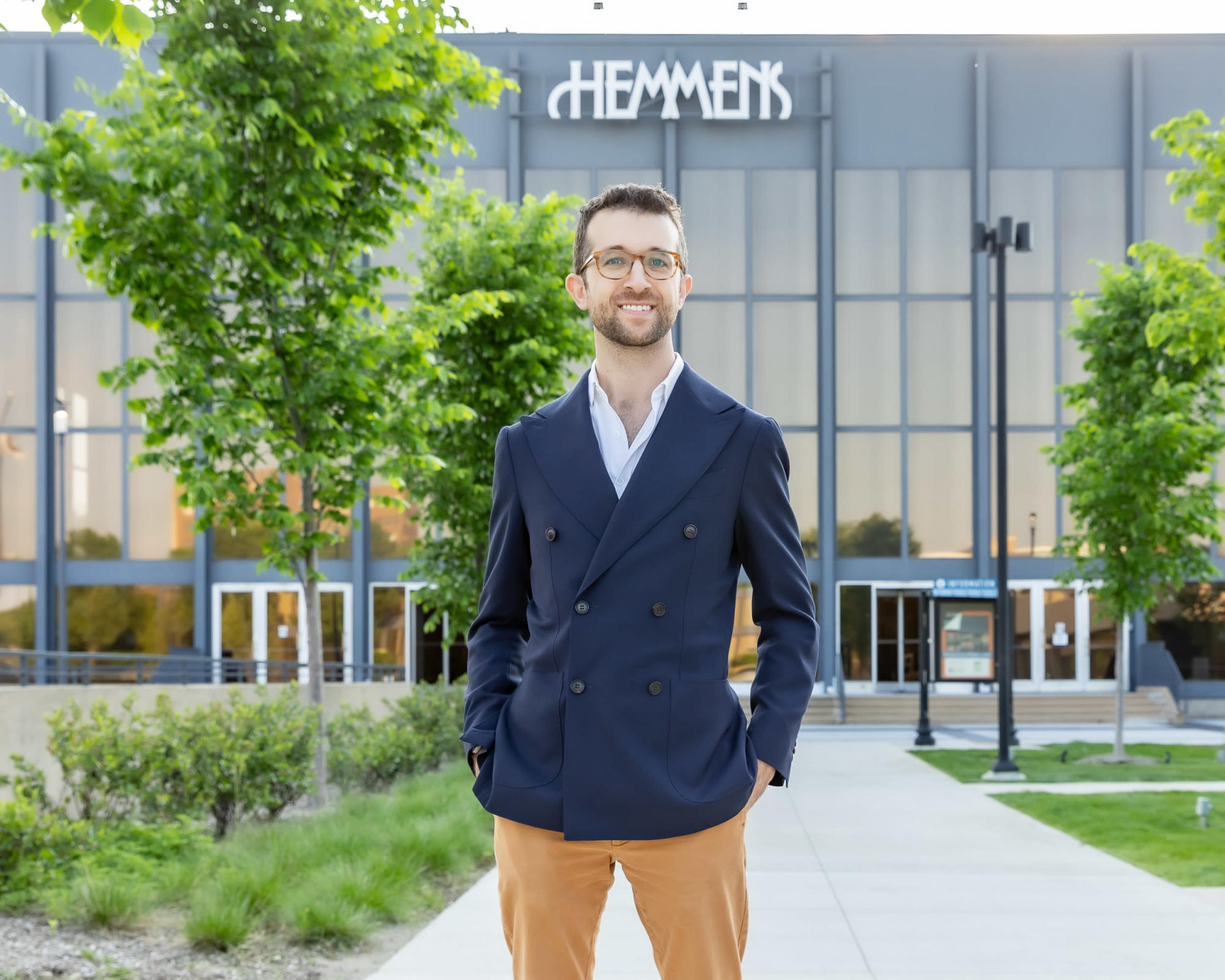 Elgin Symphony Orchestra announces 74th concert season
Tickets now on sale
(August 28, 2023 – Elgin, Ill.) The tradition of bringing soloists and vocalists celebrated around the world while showcasing the extraordinary talent of local artists continues as the Elgin Symphony Orchestra enters its 74th season. Tickets are now on sale for the ESO's entire 2023-24 season line-up, which includes concerts featuring traditional and contemporary composers, and boasts guest artists who have wowed audiences in concert halls and opera houses around the world.
"You will hear music from legendary composers like Beethoven, Mozart and Rachmaninoff, but also hidden gems from voices of the past that did not get the recognition they deserved, like Rodolfo Halffter," said Chad Goodman, who was named the ESO's music director in May. "It is essential that we also hear music from composers of today, people who are expressing their experiences of the world we currently live in through music. American composer Jessie Montgomery and Bulgarian-British composer Dobrinka Tabakova are two leading voices whose music will be featured in our upcoming season."
The award-winning professional orchestra also demonstrates its commitment to making live orchestra performances accessible to the public through affordable ticket pricing, free youth tickets when accompanied by an adult, student and arts educator discounts, free tickets to classics performances for first-time guests, and free performances in the community. Concert tickets start at $20. Students with a valid ID are $10.
Tickets for the upcoming season can be purchased at www.ElginSymphony.org, or through the ESO Box Office, open Tuesday – Friday from 10 a.m. to 3 p.m. at 20 DuPage Court in Elgin or by phone at (847) 888-4000. Free parking is always available for ESO concerts.
Goodman will commence his first ESO season with concerts on Saturday, Oct. 7, at 7:30 p.m., and Sunday, Oct. 8, at 2:30 p.m., featuring Grammy Award winning soprano Christine Brewer on Strauss' "Four Last Songs" and including Mozart's "The Magic Flute Overture" and Rachmaninoff's "Symphonic Dances." A pre-concert chat, with Goodman discussing the music and the composers, will take place one hour prior to concert time. The opening concert is one of six concerts in the ESO's classics line-up, which is also available as a subscription series.
Lidiya Yankovskaya returns as guest conductor in January
Lidiya Yankovskaya, music director of the Chicago Opera Theater, makes a return appearance to the ESO as guest conductor on Jan. 13 and 14, 2024. Yankovskaya will be joined by flutist Brandon Patrick George in a program that includes Bacewicz's Overture; Ibert's Flute Concerto; Schubert's Symphony No. 8, "Unfinished"; and Hindemith's "Symphonic Metamorphosis".
The classics concerts, along with the ESO's much anticipated annual Holiday Spectacular performances that showcase the local talent of the Elgin Master Chorale and Integrity School of Dance and "The Magic of Hollywood" concerts in February 2024, take place at the Hemmens Cultural Center in Elgin.
The Friday Favorites, Music You Know series returns this year, with concerts in the fall and the spring at the Blizzard Theatre at Elgin Community College. The Friday Favorites concerts, implemented by the ESO last year, makes orchestra music approachable to newcomers with its shorter, recognizable pieces, while providing longtime symphony fans a chance to hear some of their favorite compositions in a more intimate setting. Tickets for Friday Favorites performances are available exclusively through the Blizzard Theatre Box Office, www.eccartscenter.org, (847) 622-0300.
Opening Weekend Reception
The ESO will host an opening weekend reception following the Saturday, Oct. 7, concert, at The Heritage Ballroom, 100 Symphony Way. Guests will enjoy heavy appetizers, desserts, an open bar, and the opportunity to meet Goodman. Tickets for the reception are available online at www.ElginSymphony.org or by phone at (847) 888-4000 for $50 in advance. The price at the door will be $60.
The ESO's 74th season schedule includes the following performances. For a complete list, including the ESO's free community concerts and educational programs, visit www.ElginSymphony.org:
Saturday, Oct.7, at 7:30 p.m.
Sunday, Oct. 8, at 2:30 p.m.
Hemmens Cultural Center
Chad Goodman, conductor
Christine Brewer, soprano
Program:
MOZART The Magic Flute Overture
R. STRAUSS Four Last Songs
RACHMANINOFF Symphonic Dances
Friday, Oct. 13, 2023, at 6:30 p.m.
Blizzard Theatre*
Chad Goodman, conductor
Friday Favorites, Music You Know: Moonlit Mysteries
Program:
J. STRAUSS, Jr. Thunder and Lightning Polka
HUMPERDINCK Witch's Ride from Hansel and Gretel
ELGAR Nimrod from Enigma Variations
MOZART Don Giovanni Overture
BERLIOZ March to the Scaffold from Symphonie
fantastique
RAVEL Pavane for a Dead Princess
GRIEG In the Hall of the Mountain King from Peer Gynt
DEBUSSY Clair de lune
BIZET Selections from Carmen
*Tickets available through the Blizzard Theatre
Saturday, Nov. 4, at 7:30 p.m.
Sunday, Nov. 5, at 2:30 p.m.
Hemmens Cultural Center
Chad Goodman, conductor
Stephen Rose, violin
Brant Taylor, cello
Program:
R. HALFFTER Obertura festiva
BRAHMS Double Concerto for Violin, Cello and Orchestra
BEETHOVEN Symphony No. 2
Sunday, November 19, at 2:30 p.m.
First United Methodist Church in Elgin, Ill.
Music for Winds
Sunday, Dec. 3, 2023, at 3 p.m.
Saint Anne Catholic Community in Barrington, Ill.
Chad Goodman, conductor
Holiday Brass and Percussion
Holiday Spectacular*
Friday, Dec. 8, at 8 p.m.
Raue Center for the Arts in Crystal Lake
Chad Goodman, conductor
Elgin Master Chorale
*Tickets available through the Raue Center at www.rauecenter.org.
Holiday Spectacular
Saturday, Dec. 9, at 2:30 p.m. and 7:30 p.m.
Sunday, Dec. 10, at 2:30 p.m.
Hemmens Cultural Center
Chad Goodman, conductor
Integrity School of Dance
Elgin Master Chorale
Saturday, Jan. 13, 2024, at 7:30 p.m.
Sunday, Jan. 14, 2024, at 2:30 p.m.
Hemmens Cultural Center
Program:
Lidiya Yankovskaya, conductor
Brandon Patrick George, flute
BACEWICZ Overture
IBERT Flute Concerto
SCHUBERT Symphony No. 8, "Unfinished"
HINDEMITH Symphonic Metamorphosis
Saturday, Feb. 3, 2024, at 7:30 p.m.
Sunday, Feb. 4, 2024, at 2:30 p.m.
Hemmens Cultural Center
The Magic of Hollywood
Chad Goodman, conductor
Saturday, March 2, 2024, at 7:30 p.m.
Sunday, March 3, 2024, at 2:30 p.m.
Hemmens Cultural Center
Chad Goodman, conductor
Isabella Lippi, violin
Program:
REVUELTAS Janitzio
MOZART Violin Concerto No. 4
PROKOFIEV Symphony No. 5
Saturday, March 23, 2024, at 7:30 p.m.
First United Methodist Church (Elgin)
Chad Goodman, conductor
Music for Strings
Saturday, April 6, 2024, at 7:30 p.m.
Sunday, April 7, 2024, at 2:30 p.m.
Hemmens Cultural Center
Chad Goodman, conductor
Orli Shaham, piano
Program:
BRAHMS Academic Festival Overture
R. SCHUMANN Piano Concerto
TCHAIKOVSKY Symphony No. 2, "Ukrainian"
Friday, April 12, 2024, at 6:30 p.m.
Blizzard Theatre*
Chad Goodman, conductor
Friday Favorites, Music You Know
Program features the music of Tchaikovsky, Mendelssohn, and Copland
*Tickets available through the Blizzard Theatre
Saturday, May 4, 2024, 7:30 p.m.
Sunday, May 5, 2024, 2:30 p.m.
Hemmens Cultural Center
Chad Goodman, conductor
Laura Strickling, soprano
Mary Phillips, mezzo-soprano
Thomas Cooley, tenor
Hadleigh Adams, baritone
Elgin Master Chorale
Program:
MOZART Ave verum corpus
JESSIE MONTGOMERY Hymn for Everyone
BEETHOVEN Symphony No. 9
###
About the Elgin Symphony Orchestra

The Elgin Symphony Orchestra is one of the preeminent regional orchestras in the United States. Since its founding in 1950, the organization has developed a reputation for artistic excellence, and innovative programming as demonstrated through its long history of highlighting the works of world-renowned conductors, composers, and musicians, and of promoting the advancement of women in the arts.
The ESO became a professional ensemble in 1985 in good part due to the leadership of the late Margaret Hillis, who served as the ESO's music director from 1971 to 1985. Hillis was one of the first females to break through the male-dominated world of conducting and is credited with being the impetus behind the creation of the Elgin Symphony Orchestra Association, the formation of the ESO's volunteer core – the Elgin Symphony League, and the start of the ESO's commitment to music education and enrichment for youth.
Today, the ESO continues to draw its creativity and artistry from the Elgin area and gives back to the community through its Adopt-a-School program that provides supplemental music education and in-school performances to local schools; Musicians Care program that brings live music performances to local hospitals, hospices, and retirement homes; informational Listener's Club events and other free programs at public libraries; In Harmony Program in places of worship; Ainsworth Concerts for Youth; free tickets for youth under 18; open rehearsals; and free community concerts throughout the region.
The Illinois Council of Orchestras has named the ESO Orchestra of the Year four times (1988, 1999, 2005 and 2016).
The ESO is a 501(c)(3) nonprofit organization.
To learn more or to support the ESO, visit www.elginsymphony.org.