Retail Demand Keeps Rising, but at a Much Slower Pace
Retail Demand Keeps Rising, but at a Much Slower Pace
Lack of Available Space Seen Contributing to Slowdown in Leasing Activity
Despite concerns over higher costs hitting consumers and retailers in the second quarter, more retail space was occupied than was vacated for a 10th consecutive three-month period. Overall, demand for this property rose more than 10.5 million square feet in that quarter and has climbed 20.8 million square feet since Jan. 1.
Even so, while positive, demand for more space from retailers has slowed of late. The increase in the amount of retail space demand recorded in the first half of 2023 was the lowest seen since 2020 and the third-lowest total recorded over the past decade.
The slowdown comes as retailers and consumers face a more challenging economic environment, with higher costs from inflation and quickly shifting consumer preferences weighing on margins. Moreover, retailers and retail tenant representatives have noted that the lack of available space is contributing to the slowdown in leasing activity.
Retailers continued to primarily seek out locations in both freestanding and smaller multi-tenant shopping centers, with general retail, a segment primarily comprised of smaller single-tenant properties, and neighborhood centers driving demand gains during the second quarter.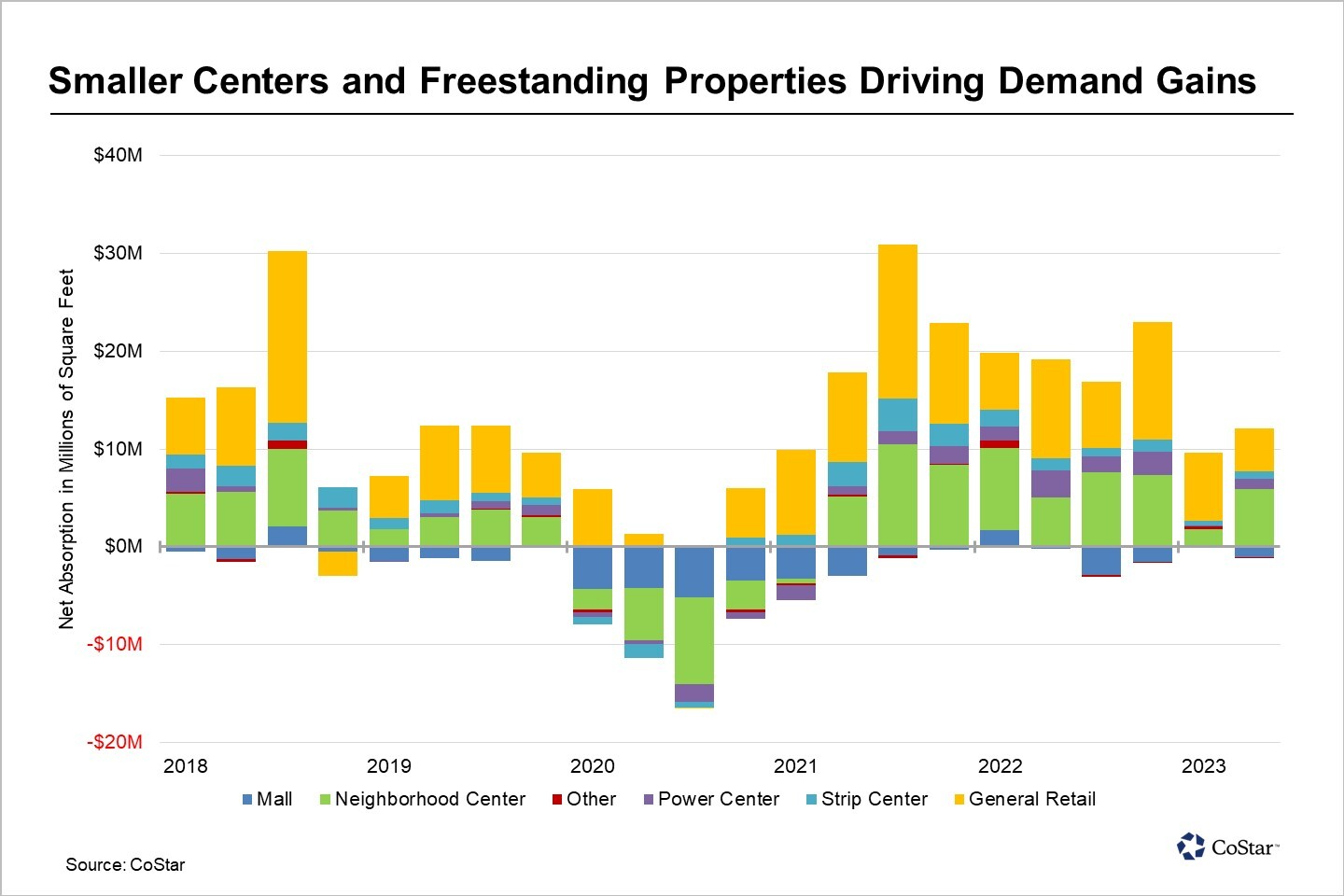 Meanwhile, demand for store space in malls, more specifically lower-quality Class B and C enclosed malls, fell by more than 1 million square feet during the second quarter. Demand for space in malls has declined by over 30 million square feet since the start of 2020, as numerous retailers, including Macy's, Bath and Body Works, Victoria's Secret, and Foot Locker, have followed shoppers out of the mall and into nearby open-air centers.
From a geographic perspective, fast-growing markets in the southern and western regions of the U.S. continue to capture an above-average share of demand gains for retail space, due to strong population and consumption growth. Nine of the 10 markets recording the greatest increase in demand relative to current inventory over the past year are located in one of these two regions.
Leading the way is Phoenix, which recorded an increase of 4.6 million square feet in retail demand, which equates to nearly 2% of the total retail space in the market. Rounding out the top five markets seeing the greatest relative increase in demand over the past year were San Antonio and Austin in Texas, Fort Lauderdale in Florida, and Kansas City, Missouri.
Of all markets with at least 100 million square feet of retail space, only four saw demand decrease over the past year, two of which were in California: Los Angeles, New York, Sacramento, and Seattle each saw retailers move out of more space than they moved into over the past year as tenants continue to respond to population and daytime working shifts resulting from the pandemic.