OrthoIllinois Welcomes Anthony Logli, MD to Medical Team
OrthoIllinois Welcomes Anthony Logli, MD to Medical Team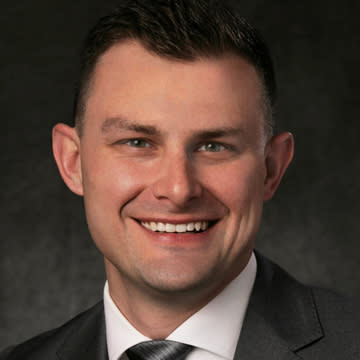 OrthoIllinois Welcomes Anthony Logli, MD to Medical Team
ROCKFORD, Ill. (Sept. 5, 2023) – OrthoIllinois, a leading bone and joint health care provider in northern Illinois, continues to expand its medical team, welcoming hand/upper extremity surgeon Anthony Logli, MD to the organization's Algonquin and Elgin clinics. Dr. Logli's practice at OrthoIllinois focuses on the surgical and non-surgical treatment of acute, chronic, and traumatic conditions of the hand, wrist, and elbow in children and adults. When working with patients, he takes the whole limb into consideration to ensure the best treatment plan.
His father, a building engineer, played a significant role in his decision to become an orthopedic surgeon giving him the foundation to learn to build and repair things and the influence for using his hands. Dr. Logli earned his undergraduate degree at the University of Chicago where he played baseball and learned about the unique injuries student-athletes encounter and the tools needed to get them back to their sport safely and efficiently. Dr. Logli attended medical school at the University of Illinois College of Medicine in Rockford where he learned the specialty of orthopedics from some of his current partners at OrthoIllinois. He then went on to complete his residency at Mayo Clinic followed by an additional year of intensive training with some of the world's leaders in upper extremity surgery at the University of Pittsburgh.
"I am committed to providing my patients with a full understanding of their condition and a personalized treatment plan to help them live a pain-free life," he said. "Having the opportunity to train with OrthoIllinois surgeons during medical school exposed me to their mission of patient-centric high-quality care and I am so proud to be a part of this team."
Dr. Logli is accepting new patients at the Algonquin and Elgin clinics. For appointments or more information, call 815-398-9491 or visit www.orthoillinois.com.
About OrthoIllinois
Established in 1967, OrthoIllinois, a division of OrthoMidwest, serves the northern Illinois region in multi-specialty orthopedics from offices in Algonquin, Elgin, McHenry, and Rockford, and offers a full range of bone and joint care, including the specialties of podiatry, physical medicine and rehabilitation, interventional pain management, occupational health, rheumatology, and chiropractic. OrthoIllinois offers the ancillary services of physical therapy, MRI, and custom orthotics and outpatient surgery centers. Visits are available with no appointments at the Injury Express urgent care locations in Algonquin, Elgin, and Rockford. Visit www.orthoillinois.com for more information.
###