Once Sizable Gap Between Suburban, Urban Multifamily Rent Growth Is Smaller Than You Think
Once Sizable Gap Between Suburban, Urban Multifamily Rent Growth Is Smaller Than You Think
Rebound in Demand for Downtown Apartments Catches Up With Suburbs
When it comes to apartment rent growth, the difference in demand for suburban and downtown living is shrinking.
This is the latest shift in the pattern that began after demand for urban multifamily units took an immediate hit at the onset of the pandemic. With many downtown offices and businesses forced to close and most white-collar employees transitioned to work remotely, the location advantages of a short office commute all but disappeared. Many restaurants, bars, theaters and cultural events also shut and limited the live-work-play lifestyle that urban renters had enjoyed.
Absent the need to go into the office, many urban renter households opted to relocate out of high-cost urban areas to less expensive and roomier locations, especially to areas in the Sun Belt, while the inflow of new households into the city center stopped altogether. By the end of 2020, year-over-year rents in high-density, urban locations were down 2.3% compared to suburban locations, which were up 2.3%, yielding a spread of 460 basis points.
However, urban multifamily demand rebounded dramatically in 2021. The vaccine rollout that began earlier that year started the re-opening of the nation and with it, renter demand for city-dwelling returned. Asking rents for apartment units in 15 major downtown submarkets skyrocketed in 2021 by 30,000 units compared to none in 2020, and demand was 57% higher than in 2019.
As a result, urban rent growth exploded to an annual average of 11.8% by the end of 2021. And while suburban properties still held the lead with an increase in average year-over-year rents of 13.1%, that lead had narrowed to 120 basis points.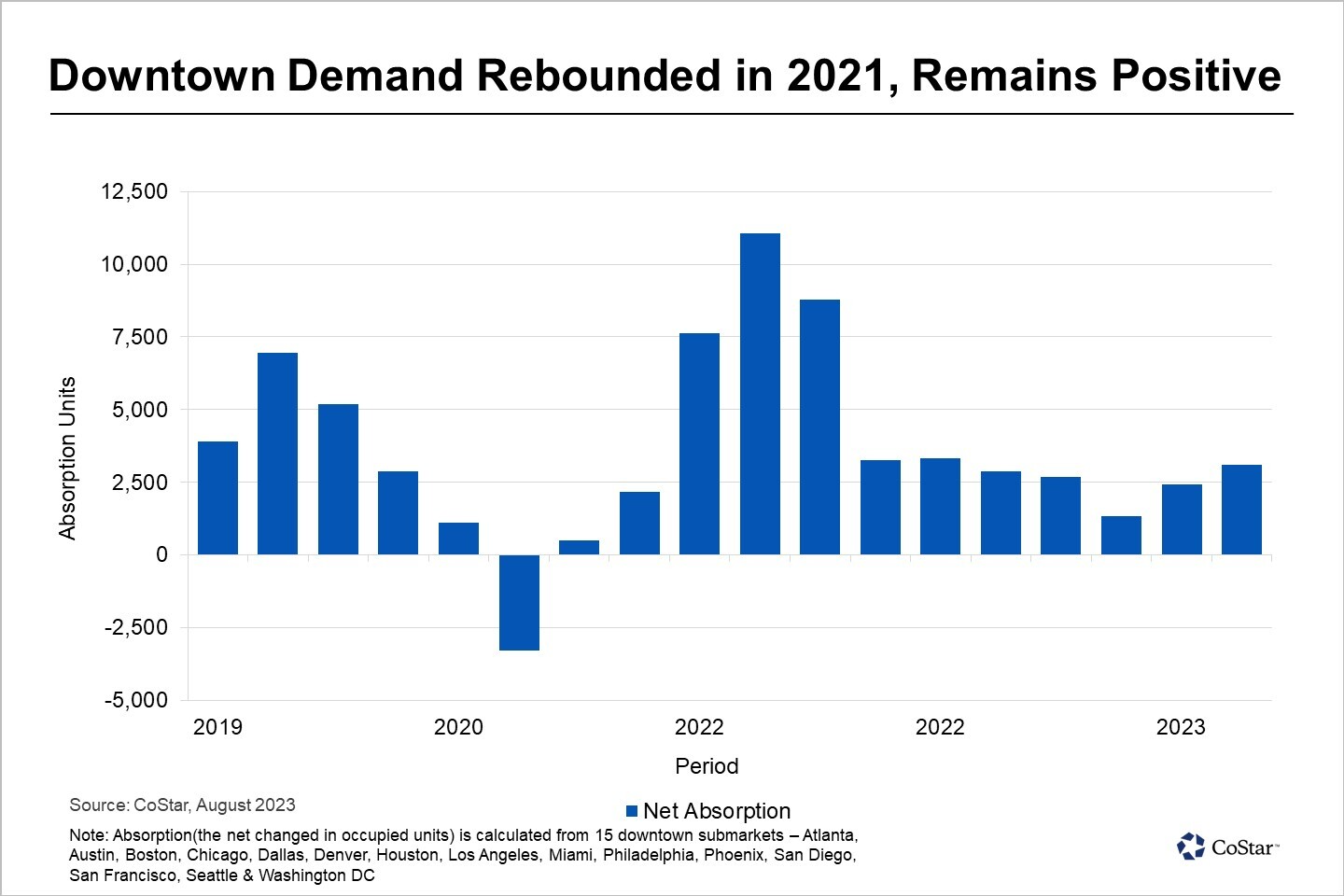 Although demand for downtown locations has cooled over the past 18 months, it remains positive as more people are renting apartments in the top 15 major downtowns in the U.S. today than before the pandemic.
The one exception is San Francisco. Over the past 14 quarters, multifamily demand in downtown San Francisco has flatlined. However other high-density urban submarkets in the Bay Area have shown strong renter interest. The South of Market Street neighborhood, for one, stands out as the leader with 2,100 more occupied units at mid-2023 than at the end of 2019.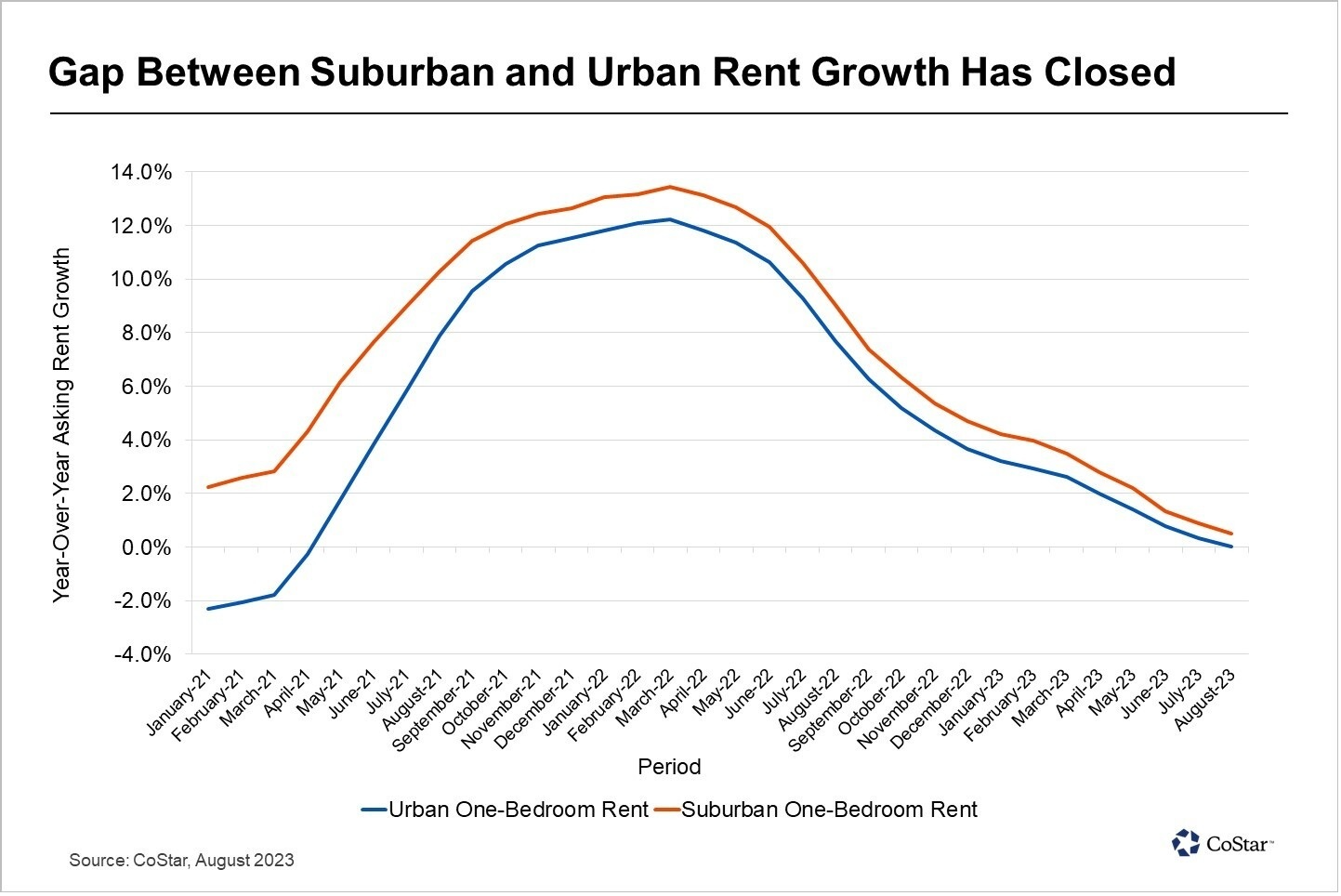 As the multifamily market moved into 2022, it became clear that the challenge facing rent growth in both urban and suburban locations going forward was supply. Developers doubled down on suburban locations during the first year or so of the pandemic, responding to robust demand and sky-high rent growth. But times have changed. Projects that broke ground at the end of 2020 or during 2021 are now delivering units into an environment of weak demand.
About 70% of all units under construction are in suburban locations. And while demand for suburban units remains positive, it is tracking significantly lower than the number of new luxury units being completed. Over the past 12 months, the net absorption of higher-rated four- and five-star suburban apartments reached 157,000 units, far below the 400,000 units that were added over the same time.
This imbalance has led to downward pressure on suburban rent growth, as asking rent growth for suburban one-bedroom units retreated from the 2021 peak of 13.1% to an average increase of just 0.5% in mid-August 2023. With rent growth in urban locations currently at 0%, the spread between the two segments has reversed direction and is at its narrowest than at any time over the past four years.
If new supply continues to outstrip demand, downward pressure on rents will continue regardless of location. With the vast majority of supply additions focused at the top end of the market, four- and five-star rent growth is expected to be under pressure until construction of new units significantly pulls back in 2025.
That leaves the possibility that lower-quality but more affordable three-star-rated properties, a group that has experienced 1.7% annual rent growth at the end of the second quarter of 2023, could begin to increase at a faster rate before rents begin to accelerate in four- and five-star units. This could also result in a boost to suburban rent growth, given that a significantly higher percentage of mid-priced units are located in the suburbs.