ECC wins national award for excellence in diversity efforts
ECC wins national award for excellence in diversity efforts
ECC wins national award for excellence in diversity efforts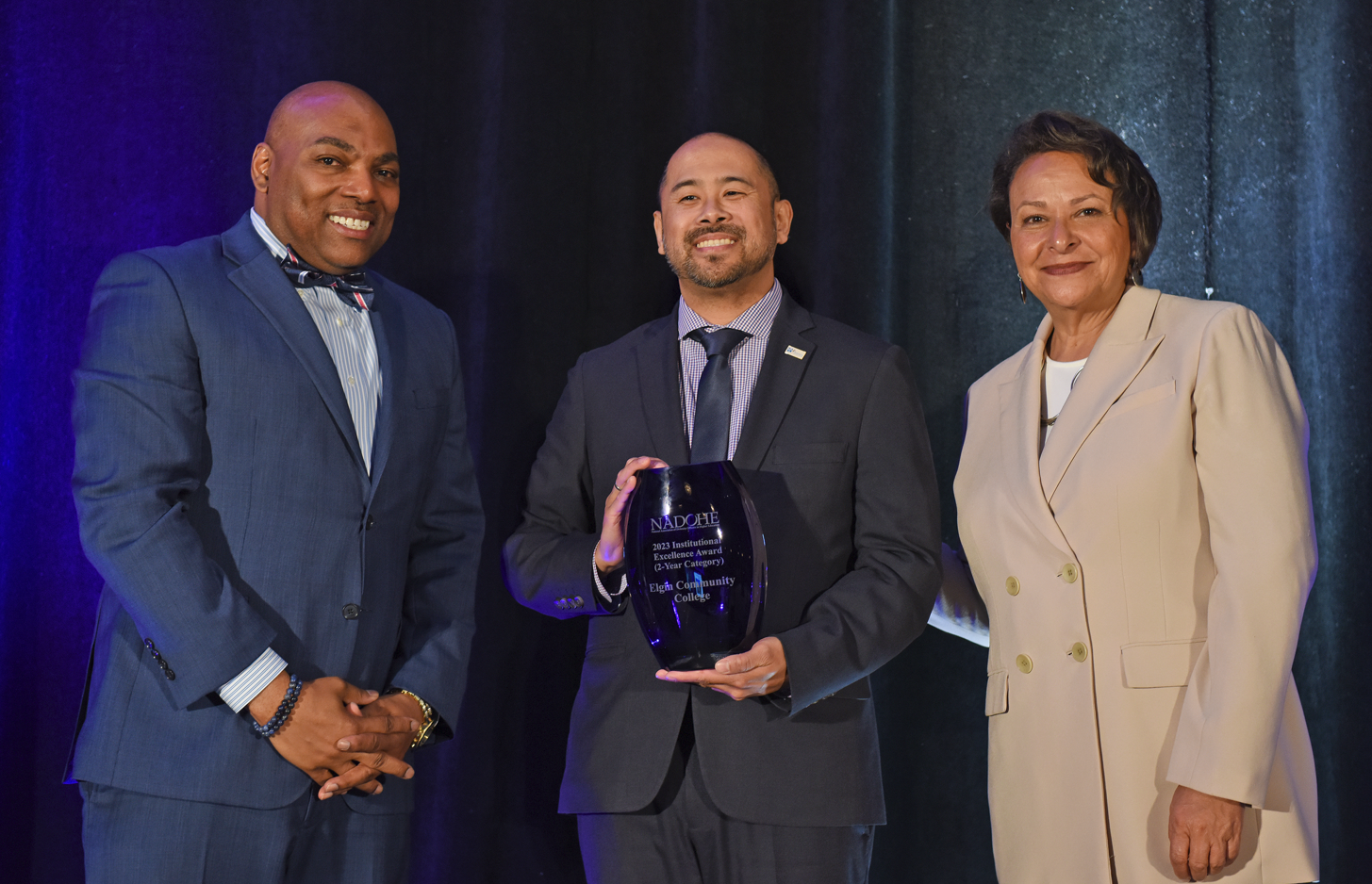 ECC wins national award for excellence in diversity efforts
Elgin Community College is the recipient of the 2023 Inclusive Excellence Award by the National Association of Diversity Officers in Higher Education (NADOHE). ECC won the Institutional Excellence Award for a two-year institution. The winners were announced during the NADOHE Annual Conference in Baltimore, Maryland. Anthony Ramos, EdD, ECC's executive director of equity, diversity, and inclusion, accepted the award on the college's behalf.
"ECC is grateful for this honor, which recognizes the work of our employees and board of trustees to ensure that all students and employees have the support they need to succeed. We prioritize access to a quality education and value equity, diversity, and inclusion in how we teach, learn, and foster personal growth," said President David Sam, PhD, JD, LLM.
The Institutional Excellence Award is presented to institutions demonstrating measurable progress in promoting and sustaining innovative diversity efforts within their campus community. These efforts may involve, but are not limited to, institutional leadership, curricular reform, institutional transformation, professional development, assessment policies and practices, accountability measures, and outreach efforts.
"This award represents the significant work done to create spaces where students feel like they belong and can thrive in pursuit of their dreams," said Ramos. "From reducing student loan balances to preparing the next generation of teachers for our communities and more, ECC has made countless efforts to improve students' outcomes while working to close gaps in success metrics for our minoritized and underserved populations. We know that community colleges are engines of economic and social mobility, and we are proud to do this work in District 509. This award is a testament to that pride and commitment."
The National Association of Diversity Officers in Higher Education celebrates individuals and institutions for their exemplary achievements and contributions in leading higher education toward inclusive excellence. Each year nominations for the Inclusive Excellence Awards are submitted on behalf of higher education administrators, scholars, and institutions who are leaders in the study of diversity by means of research, leadership, and service.
Photo: Anthony Ramos, EdD, ECC's executive director of equity, diversity, and inclusion (center) with NADOHE President Paulette Granberry Russell and Interim Awards Chair James Felton III. Photo credit: Tim Trumble for NADOHE